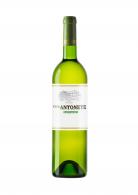 Casa Antonete Blanco Macabeo 2012
Вид вина: White
Классификация: Young
Сорт винограда: Macabeo
Крепость: 11,5º
Регион: DO LA MANCHA
Дегустация:
Light yellow wine of fine fruity aromas, fresh and with a balanced palate.
Гастрономия:
Ideal for fish, seafood, salads, appetizers, etc. Best served at 4 ° to 6 ° C.