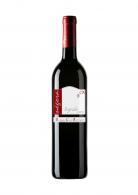 Négora Syrah 2010
葡萄酒种类 Red Wine
分类: Traditional Wine
葡萄品种: Syrah
酒精浓度: 14º
地区: DO LA MANCHA
品酒:
Our Syrah have a beautiful raspberry-ruby tone, sleek and shiny, when young. Its aromas are reminiscent of almonds, black fruit and vanilla. In the mouth the feel is clean, compact and very personal.
美食:
This traditional Syrah wine, besides going well with meat, are also suitable to be served with fish and cheese. Serving temperature: 10-12 ° C.