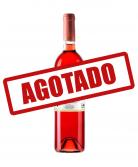 Casa Antonete Rosado 2013
葡萄酒种类 Rose Wine
分类: Young Wine
葡萄品种: Tempranillo
酒精浓度: 14º
地区: DO LA MANCHA
品酒:
Bright pink and clean, very aromatic, highlighting the strawberry, raspberry, and peach. The palate is very nice fresh and light.
美食:
Combines perfectly with fish, seafood, cheese fresh salads, etc. Best served cold 6-8 ° C.