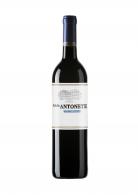 Casa Antonete Tempranillo 2013
葡萄酒种类 Red Wine
分类: Young Wine
葡萄品种: Tempranillo
酒精浓度: 14º
地区: DO LA MANCHA
品酒:
Intense ruby red color with blue tones, aromas reminiscent of strawberry, plum, and blackberries. Well structured and wide in the mouth.
美食:
Ideal for stews and rice, all kind of meats, cheeses, pates, snacks, etc. Recommended to serve slightly cold (14-16 ° C).