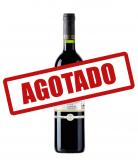 Casa Antonete Reserva 2005
葡萄酒种类 Red Wine
分类: Aged Wine
葡萄品种: Tempranillo
酒精浓度: 14º
地区: DO LA MANCHA
品酒:
Ruby red with brick tones. Powerful aromas of mature toast fruits. Licorice pleasant and complete in mouth which affords a good tannic structure.
美食:
For all kinds of dishes. Red meats and even any white meat. Pairs well with medium cheeses or pate. Best served at cellar temperature around 15-16°.