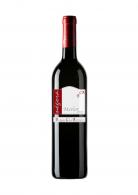 Négora Melot 2010
葡萄酒种类 Red Wine
分类: Traditional Wine
葡萄品种: Merlot
酒精浓度: 13,50º
地区: DO LA MANCHA
品酒:
Intense maroon. Balsamic and wild aromas with spicy notes and some floral all accompanied by nuances of chocolate and graphite. On the palate the wine is round but flavored kind, are jams and truffles. It combines softness and body, kindness and character.
美食:
For all kinds of dishes. Recommended with red meats and even any white meat. Pairs well with medium cheeses or paté. Best served at 18°C.