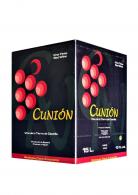 Cunión BIB 15 L
葡萄酒种类 Red
分类: Young
葡萄品种: Cabernet Sauvignon y Syrah
酒精浓度: 13º
地区: DO LA MANCHA
品酒:
Cherry red color, aromas of mature fruits, compote and spices that remind of varieties that comprise it. In the mouth is complex and well structured.
美食:
Ideal marriage with grilled and stewed meats, all types of cheese and Iberian sausages. Recommended to be served between 14 and 16 º C.