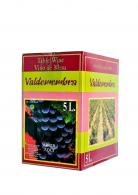 Valdemenbra Red Wine Bag in Box 5 L
葡萄酒种类 Red Wine
分类: Young
葡萄品种: Bobal
酒精浓度: 13º
地区: Table Wine
品酒:
Soft cherry color wine with a lighter rim, aromas characteristic of the variety. Friendly in mouth and complex.
美食:
Traditional wine production, from the best grapes from the land of Castile, macerated with the skins at a moderate temperaturewhere you can appreciate the flavor of this typical spanish wine.