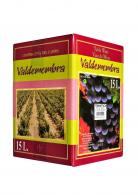 Valdemenbra Blanco Bag in box 15L
葡萄酒种类 White Wine
分类: Table Wine
葡萄品种: Airen
酒精浓度: 12º
地区: D.O. LA MANCHA
品酒:
Purple ruby in color with tile tones. Characteristic aromas and flavors of black cherry. Pleasant in the mouth and intricate.
美食:
Wine of traditional production, selecting the best bobal grapes from our vineyards of the land of Castilla. Macerated with the skins at a moderate temperature, Vinification of the Bobal variety takes place in stainless steel tanks.