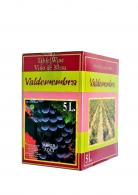 Valdemenbra Blanco Bag in box 5L.
Type of Wine: White Wine
Classification:Table Wine
Grape Variety: Airen
Alcohol Content: 12º
Area: D.O. LA MANCHA
Tasting:
Straw yellow color. On the nose we appreciate characteristic aromas of this grape variety, very prominents. Pleasant and warm on the palate.
Gastronomy:
White wine from a selected grapes collected in its best state of maturity. After a slight cold maceration we obtain by gravity the flower must for fermentation in stainless steel tanks under very strict control of temperature.